Saturday, July 04, 2015
Annual Virtual Fireworks Display
Ok, it's not the same as the real thing. But I'm a July baby, and I love my fireworks.
Nothing could be more American than watching fireworks on July 4th. Yet, for many in remote areas, this is not practical. Your town may not be putting on a display this year because of budget constraints. Or you might not be able to get to the nearest fireworks display. This year, many communities are cancelling fireworks due to nervousness over drought conditions, as well.
It is a tradition here at
Recta Ratio
to link to virtual fireworks displays you can enjoy in the comfort of your own study. So turn off the lights, crank up the volume on your speakers, plug some John Phillips Sousa, some Handel Water Music and Music for the Royal Fireworks, and some Williamsburg Corps of Fifes and Drums into the CD player, pour yourself some wine, and put some more mustard on that hot dog!
I always link to Hogpainter's fireworks display.
For the record, I recently figured out that this is a guy who paints motorcycles. So "hogs" are motorcycles. Live and learn.
And try this one
.
But you activate it by left-clicking the mouse within the field.
I like this one, too.
This one allows you to watch fireworks over the White House and over New York City, or at a carnival or baseball game.
This one
over New York Harbor reminds me of the one 25+ years ago (can it be that long?) when the Statue of Liberty was newly rehabbed and President Reagan came for the show and watched from the deck of
USS Iowa
. We surely need another Reagan now to set the country going again.
Happy Independence Day!
July 4, 1776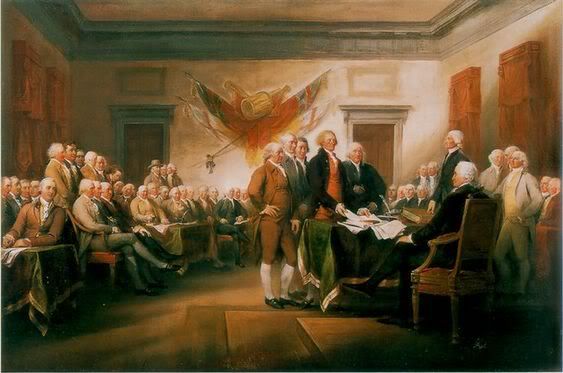 For those men who signed the Declaration of Independence on July 2nd, 1776, the odds did not look very good. Public opinion polls, if they existed, probably would have told them that only one-third of the population favored the course upon which they were about to embark. One-third was indifferent. One-third opposed independence. The men gathered from the thirteen colonies in Philadelphia, even without polling, probably had a sense that this was the case.
The army which would be the primary instrument of winning independence was scarcely disciplined, poorly uniformed, badly armed, and ill-supplied with food and ammunition. Pay was a promise (which, in fact, was mostly ignored 7 years later). Its generals had no experience commanding larger bodies of troops than a battalion.
True, there had been some victories. Boston had been rendered untenable for the enemy, and he had evacuated it. Fort Ticonderoga had fallen to a surprise attack, and supplied the heavy artillery that had led the British to evacuate Boston. Montreal had been captured, though that invasion force had been stopped at Quebec, and even now was building an anti-invasion fleet on Lake Champlain. The delegates in Philadelphia probably did not know it, but an enemy invasion of Charleston, SC had been averted a few days before.
But there had also been defeats. Despite inflicting heavy losses on the enemy, Bunker Hill had been captured. The attempt to capture Canada had failed miserably.
Most significant was what was coming. As the delegates debated independence, they knew that the British army that had left Boston was en route from Halifax, probably heading for New York. If their spies were accurate, that army would rendezvous with another escorted by an even larger fleet. Large numbers of British and German troops had driven the American Northern Army from Canada, and were poised to drive down Lake Champlain. These troops who would confront their own tattered, inexperienced army were the best Europe could field. British troops who had conquered an empire just 15 years before would be joined by excellent troops from Brunswick and Hesse Cassel, Frederick the Great's best allies. The enemy was supported by professional artillerists, and by a navy that was (despite peacetime decline and corruption) still, ship-for-ship, the best in the world. Thousands of their fellow countrymen would be happy to take up arms alongside the British army. To make matters worse, the Indian nations were ready to take up arms on behalf of the King, raising the prospect of burned farms, scalped settlers, and women and children abducted into captivity among the savages.
The men in Philadelphia must have found the prospect of declaring independence a daunting task. In the next three months, the most likely outcome was that the British army would take New York, flatten their own army, and then march on Philadelphia to hang them for treason. Their property would be taken from their families. At best they would become fugitives constantly on the run from British authorities.
But the best of them had a vision for the future, and strong reasons to feel the need to break with the past. The vision was that they would govern themselves, as they actually had for the most part, until the Imperial government decided to tap America for revenue to pay for keeping the peace with the Indians. John Winthrop's vision of a city set upon a hill remained a strong one, and merged with Locke's ideas about government, and newer ideas coming from Adam Smith about how an economy ought to be allowed to develop. A unified vision of a new nation which would serve as a beacon of liberty for all nations emerged, and was in the forefront of the minds of the men in Philadelphia. They had in this synthesis of ideas and in adapting to conditions on the American frontier, become a new nationality in need of a new nation.
And yet, despite all the obstacles, it was the vision that prevailed, and not the balance of forces. It is that vision that we celebrate today. John Adams, who did more than anyone to push the cause of independence through Congress, wrote to his wife that July 2, 1776 (the day the Declaration was approved):
"...Will be the most memorable epocha in the history of America. I am apt to believe that it will be celebrated by succeeding generations as the great anniversary festival. It ought to be commemorated as the Day of Deliverence by solemn acts of devotion to God Almighty. It ought to be solemnized with pomp and parade, with shows, games, sports, guns, bells, bonfires and illuminations from one end of this continent to the other from this time forward forever more."
May it always be so.
Thursday, July 02, 2015
The Visitation Of Our Blessed Lady To Saint Elizabeth
Those who follow the 1970 Ordo observed the Visitation some time ago. But for those of us who follow the traditional Ordo, July 2nd is always the Feast of the Visitation.
My guess is that the 1970 Ordo observes the Visitation when it would have begun, while the traditional Ordo observes it at the time it would have ended.
My soul doth magnify the Lord,
And my spirit rejoiceth in God my Savior.
For He hath regarded the low estate of His handmaiden,
For behold, henceforth all generations shall call me blessed.
For He who is mighty hath done great things for me, and holy is His Name.
And His mercy is on those who fear Him from generation to generation.
He hath shown strength with His arm:
He hath scattered the proud in the conceit of their hearts.
He hath pulled down the mighty from their thrones,
And hath exalted those of low degree.
He hath filled the hungry with good things;
And the rich He has sent, empty, away.
He hath helped His servant Israel, in remembrance of His mercy;
As He spoke to our fathers, to Abraham, and to His posterity, forever.
Wednesday, July 01, 2015
The Most Precious Blood Of Our Lord
Consecration to the Precious Blood
O Jesus, fairest of the children of men, Thou whom I see crushed beneath the weight of my sins, covered with wounds, Thy hands and feet pierced with nails, Thy side opened with a lance, I adore Thee and recognize Thee as my Lord and my God and as my beloved Redeemer. Pierced with grief at sight of the Blood flowing from Thy wounds for the redemption of souls, I feel irresistibly urged to consecrate myself to the worship of this regenerating Blood and, by an exemplary life, to atone for all the profanations of this Divine Blood and for those which It still receives daily in the veins of Thy Sacred Body present mystically on the altar. By this consecration which I beg Thee to accept, O my Savior, I desire to spend my whole life in proving to Thee my gratitude and my love by paying frequent homage to Thy Precious Blood and by propagating this devotion as far as is in my power. I desire every pulsation of my heart to be a renewal of this consecration, a constantly repeated act of love for this redeeming Blood, a perpetual offering of Its merits in behalf of sinners and all the souls dear to me, and a hymn of unceasing praise in union with that of the Saints and all the blessed in Heaven: "To the Lamb who redeemed us in His Blood, be honor and glory and benediction forever." O Mary, Mother of the Divine Redeemer, obtain for me the grace of adoring fervently throughout my life the Blood of thy Divine Son and of singing forever Its mercies in Heaven. Amen.
Monday, June 29, 2015
Saint Peter, Apostle, Pope, and Martyr and Saint Paul, Apostle and Martyr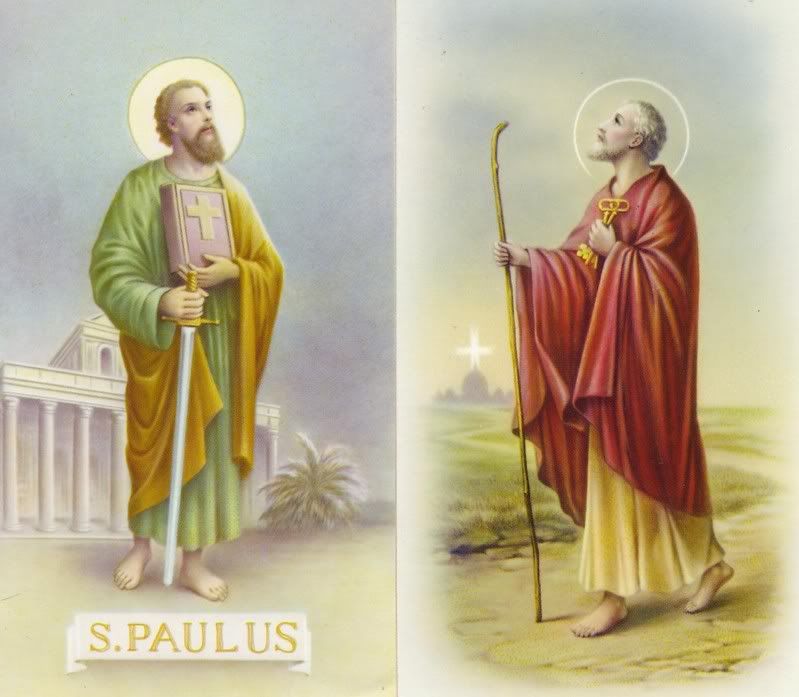 You can pray the traditional Office for this feast
here
.
Oremus.
Deus, qui hodiérnam diem Apostolórum tuórum Petri et Pauli martyrio consecrásti : da Ecclésiæ tuæ, eórum in ómnibus sequi præcéptum; per quos religiónis sumpsit exordium.
Let us pray.
O God, who didst hallow this day by the martyrdom of thine holy Apostles Peter and Paul, grant unto thy Church, whose foundations thou wast pleased to lay by their hands, the grace always in all things to remain faithful to their teaching.
Saint Peter, please pray for us!
Saint Paul, please pray for us!
Wednesday, June 24, 2015
The Nativity Of Saint John the Baptist
Tuesday, June 23, 2015
Vigil Of the Nativity Of Saint John the Baptist
Also known as Midsummer Day's Eve.
St. John the Baptist before Herod
from the
Petite Heures du Jean, Duc de Berry
The Church typically celebrates saints on the anniversary of their entering into eternal life. Only three persons' nativities are celebrated.
The Nativity of our Lord, of course is the second most important feast of the year(Christmas). We celebrate His Nativity, of course, be cause He is God the Son, and the Redeemer of all mankind.
The Nativity of the Blessed Virgin Mary is celebrated on September 8th, though it does not generate a great deal of devotional attention. We celebrate her nativity because she was the ark of the new covenant, and the only woman conceived without the stain of original sin.
And St. John the Baptist's nativity on June 24th has always been more popular, because it is one of those natural coincidences between the celebration of the natural year, and the Christian calendar. We celebrate St. John the Baptist's nativity because he was sanctified in his mother's womb, when Our Lady visited her and St. John leapt in joy inside her.
It is close to the longest day of the year (the summer solstice), as Christmas is close to the shortest. It was typically celebrated in medieval times with Mass, bonfires, rolling flaming cart wheels downhill, public feasting, flower garlands, gathering of herbs (especially St. John's Wort), and religious processions.
And most of the jollification took place on the Eve of St. John's Nativity, which would be tonight. Most holydays were celebrated as wakes, with the merrymaking beginning the evening before, just as we today consider Christmas celebrations to have begun after the first Mass for Christmas (4pm on Christmas Eve).
Also, like Christmas, it is a "quarter day," when quarterly rents and other obligations were due. The Quarter Days are March 25th (Lady Day) June 24th (Midsummer Day) September 29th (Michaelmas), and December 25th (Christmas).
Andrew at
The Shrine of the Holy Whapping
has
more on St. John's Eve customs.
Saturday, June 13, 2015
Saint Anthony Of Padua, Confessor And Doctor Of the Church
The Catholic Encyclopedia on St. Anthony
Wikipedia
This great Franciscan saint, proclaimed by Pope Pius XII the "Evangelical Doctor" of the Church, is also the patron of those seeking lost things.
When Saint Anthony was preaching in Rimini, a local heretic (some sources say the man was Jewish) stated that he would not believe in Our Lord's Real Presence in the Eucharist unless a horse knelt before the Blessed Sacrament. After praying, Saint Anthony had a horse brought to him, and showed the horse the Blessed Sacrament in his right hand, and some oats in his left. The horse refused the oats, and knelt before the Blessed Sacrament. And the heretic made his submission to Holy Mother the Church.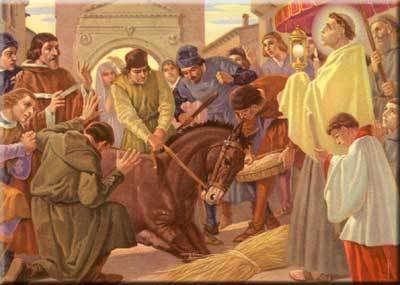 Saint Anthony, I thank thee for favors granted, and please continue to pray for us!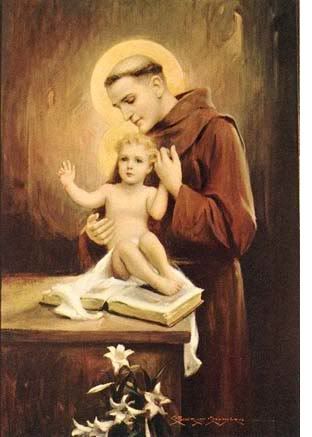 The Immaculate a Heart Of Our Blessed Lady
Inevitably, I think, we traditionalists will have to live with and accept at least some of the calendar changes of the Novus Ordo. Not every one of the changes was irrational or destructive of the Faith. Some made good sense. Moving the feast of Saint Monica, the mother of Saint Augustine to the day before his feast was one of the ones that made sense.
r
So, I believe, is the moving of the Feast of the Immaculate Heart of Our Blessed Lady to the day following the Feast of the Sacred Heart of Our Lord.
First of all, this ensures that it always falls on a Saturday, the day of the week consecrated to her. And uniting the two feasts in this manner furthers the acceptance of the fact that the Two Hearts of Jesus and Mary are, in fact, One.
Plus, in making this change, it was not as if they were tampering with a feast of that had been celebrated on that date since time-out-of-mind. The Feast of the Immaculate Heart of our Blessed Lady was only extended to the Universal Church in 1945 by Pope Pius XII of blessed memory. So, in the 1960s, it was a new feast anyway.
In any case, since I am somewhat bi-modal in that I attend both Ordinary and Extraordinary Modes of the Latin Rite as circumstances allow, I am open to celebrating the Feast of the Immaculate Heart of Our Blessed Lady twice, today and on its date in the 1962 ordo, August 22nd.
We love her so much, let's celebrate her Immaculate Heart twice this summer!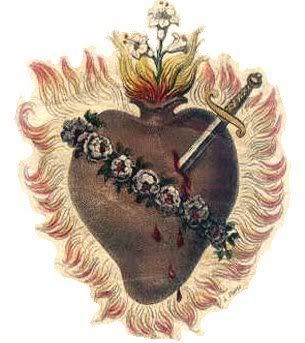 The Five First Saturdays
THE observance of the First Saturday in honor of the Immaculate Heart of Mary is intended to console her Immaculate Heart, and to make, reparation to it for all the blasphemies and ingratitude of men. This devotion and the wonderful promises connected with it were revealed by the Blessed Virgin with these words recorded by Lucy, one of the three children to whom the Blessed Virgin appeared at Fatima, Potugal, in 1917:
I promise to help at the hour of death, with the graces needed for salvation, whoever on the First Saturday of five consecutive months shall:
1. Confess and receive Holy Commtmion.
2. Recite five decades of the Rosary.
3. And keep me company for fifteen minutes while meditating on one or more of the fifteen mysteries of the Rosary, with the intention of making reparation to me.
ACT OF REPARATION TO BE RECITED ON THE FIRST SATURDAYS
O MOST holy Virgin and our Mother, we listen with grief to the complaints of thine Immaculate Heart surrounded with the thorns which ungrateful men place therein at every moment by their blasphemies and ingratitude. Moved by the ardent desire of loving thee as our Mother and of promoting a true devotion to thy Immaculate Heart, we prostrate ourselves at thy feet to prove the sorrow we feel for the grievances that men cause thee, and to atone, by means of our prayers and sacrifices, for the offenses with which men return thy tender love.
Obtain for them and for us the pardon of so many sins. A word from thee will obtain grace and amendment for us all.
Hasten, O Lady, the conversion of sinners that they may love Jesus and cease to offend the Lord, already so much offended and will not fall into Hell.
Turn thy eyes of mercy toward us that henceforth we may love God with all our heart while on earth and enjoy Him forever in Heaven. Amen.
NOTE: Confession during the week, preceding the first Friday, will suffice for the first Saturday, or conversely when Saturday is the first day of the month. The Rosary may be recited at any convenient time of the day, and the fifteen-minute meditation may be made at any time during the day on one or more of the fifteen mysteries of the Rosary. A sermon for the occasion may be substituted for the meditation. Meditation consists in thinking over the events as if one were present at the happenings mentioned in the mystery, or in considering what one would have done had he been present during the event considered in a particular mystery, all in the spirit of reparation to the Immaculate Heart.
ACT OF CONSECRATION TO THE IMMACULATE HEART OF MARY
QUEEN of the Most Holy Rosary, Refuge of the Human Race, Victress in all God's battles, we humbly prostrate ourselves before thy throne, confident that we shall receive mercy, grace and bountiful assistance and protection in the present calamity, not through our own inadequate merits, but solely through the great goodness of thy Maternal Heart.
To thee, to thy Immaculate Heart in this, humanity's tragic hour, we consign and consecrate
ourselves in union not only with the Mystical Body of thy Son, Holy Mother Church, now in such suffering and agony in so many places and sorely tried in so many ways, but also with the entire world, torn by fierce strife, consumed in a fire of hate, victim of its own wickedness.
May the sight of the widespread material and moral destruction of the sorrows and anguish of countless fathers and mothers, husbands and wives, brothers and sisters, and innocent children of the great number of lives cut off in the flower of youth, of the bodies mangled in horrible slaughter, and of the tortured and agonized souls in danger of being lost eternally move thee to compassion. O Mother of Mercy obtain peace for us from God, and, above all, procure for us those graces which prepare, establish and assure the peace.
Queen of Peace, pray for us and give to the world now at war, the peace for which all peoples are longing, peace in the truth, justice and charity of Christ. Give peace to the warring nations and to the souls of men, that in the tranquillity of order the Kingdom of God may prevail.
Extend thy protection to the infidels and to all those still in the shadow of death give them peace and grant that on them, too, may shine the sun of truth that they may unite with us in proclaiming before the one and only Savior of the World: "Glory to God in the highest and peace to men of good will."
Give peace to the peoples separated by error or by discord and especially to those who profess such singular devotion to thee, and in whose homes an honored place was ever accorded thy venerated image today, perhaps often kept hidden to await better days bring them back to the one fold of Christ, under the one true Shepherd.
Obtain peace and complete freedom for the Holy Church of God, stay the spreading flood of modern paganism; enkindle in the faithful the love of purity, the practice of the Christian life and an apostolic zeal so that the servants of God may increase in merit and in number.
Lastly, as the Church and the entire human race were consecrated to the Sacred Heart of Jesus, so that in reposing all hope in Him, He might become for them the sign and pledge of Victory and salvation; so we, in like manner, consecrate ourselves forever also to thee and to thine Immaculate Heart, our Mother and Queen, that thy love and patronage may hasten the triumph of the Kingdom of God and that all nations, at peace with one another and with God may proclaim thee blessed and with thee may raise their voices to resound from pole to pole the chant of the everlasting Magnificat of glory, love and gratitude to the Heart of Jesus, where alone they can find truth and peace.
Litany Of the Immaculate Heart
(
For Private Use Only)
Lord, have mercy on us.
Christ, have mercy on us.
Lord have mercy on us. Christ hear us.
Christ graciously hear us.
God the Father of Heaven, have mercy on us.
God the Son, Redeemer of the world, have mercy on us.
God the Holy Spirit, have mercy on us.
Holy Trinity, One God, have mercy on us.
Immaculate Heart of Mary, favorite Daughter of God the Father,
pray for us.
Immaculate Heart of Mary, Mother of God the Son,
pray for us.
Immaculate Heart of Mary, Spouse of the Holy Spirit,
pray for us.
Immaculate Heart of Mary, redeemed in a sublime
manner by the merits of thy Son, pray for us.
Immaculate Heart of Mary, Mother and
Model of the Church, pray for us.
Immaculate Heart of Mary, excellent exemplar
in faith and charity, pray for us.
Immaculate Heart of Mary, who conceived the Word
of God in Thy heart before thy did in thy womb,
pray for us.
Immaculate Heart of Mary, who gave precious Blood
to the Son of God in His human nature, pray for us.
Immaculate Heart of Mary, conceived free of Original Sin,
pray for us.
Immaculate Heart of Mary, who embraced God's saving will
with a full heart, impeded by no sin, pray for us.
Immaculate Heart of Mary, whose sweet soul a
sword pierced beneath the Cross, pray for us.
Immaculate Heart of Mary, given to us as Mother
by Jesus as He hung dying on the Cross,
pray for us.
Immaculate Heart of Mary, who accepted us
as sons as thou stood beneath the Cross,
pray for us.
Immaculate Heart of Mary, all pure and holy,
pray for us.
Immaculate Heart of Mary, exalted by Divine grace
above all Angels and men, pray for us.
Immaculate Heart of Mary, Mediatrix of grace,
pray for us.
Lamb of God, Who takest away the sins of the world,
spare us, O Lord.
Lamb of God, Who takest away the sins of the world,
graciously hear us, O Lord.
Lamb of God, Who takest away the sins of the world,
have mercy on us.
V. Pray for us, O Holy Mother of God.
R. That we may be made worthy of the
promises of Christ.
Let us pray.
O Immaculate Heart of Mary, bearing with love for all thy children upon earth, pray for us who have recourse to thee. Show to Our Heavenly Father the Wound in the Heart of Thy Son
and at the same time offer again the sword that pierced thy Sorrowful and Immaculate Heart as thou suffered by compassion with Thy Divine Son for the redemption of the world. By thy intercession, through the merits of Jesus Christ, bring us to salvation.
Amen.
Act Of Consecration To the Immaculate Heart From The Raccolta
O Mary, Virgin most powerful and Mother of mercy, Queen of Heaven and Refuge of sinners, I consecrate myself to thine Immaculate Heart.
I consecrate to thee my very being and my whole life; all that I have, all that I love, all that I am. To thee I give my body, my heart and my soul; to thee I give my home, my family, my country. We desire that all that is in me and around me may belong to thee, and may share in the benefits of thy motherly benediction. And that this act of consecration may be truly efficacious and lasting, I renew this day at thy feet the promises of my Baptism and my first Holy Communion. I pledge myself to profess courageously and at all times the truths of our holy Faith, and to live as befits a Catholic who is duly submissive to all the directions of the Pope and the Bishops in communion with him. I pledge myself to keep the commandments of God and His Church, in particular to keep holy the Lord's Day. I likewise pledge myself to make the consoling practices of the Christian religion, and above all, Holy Communion, an integral part of my life, in so far as I may be able so to do. Finally, I promise thee, O glorious Mother of God and loving Mother of men, to devote myself whole-heartedly to the service of thy blessed cult, in order to hasten and assure, through the sovereignty of thine Immaculate Heart, the coming of the kingdom of the Sacred Heart of thine adorable Son, in my own heart and in those of all men, in our country and in all the world, as in Heaven, so on earth.
Amen.
Consecration to the Immaculata by Saint Maximilian Kolbe
O Immaculata, Queen of Heaven and earth, refuge of sinners
and our most loving Mother, God has willed to entrust the entire
order of mercy to thee. I, N. . . , a repentant sinner, cast myself at
thy feet humbly imploring thee to take me with all that I am and have,
wholly to thyself as thy possession and property. Please make of me,
of all my powers of soul and body, of my whole life, death and eternity,
whatever most pleases thee.
If it pleases thee, use all that I am and have without reserve, wholly to accomplish what was said of thee: "She will crush your head," and, "Thou alone have destroyed all heresies in the whole world."
Let me be a fit instrument in thine Immaculate and merciful hands for introducing and increasing the maximum in all the many strayed and indifferent souls, and thus help extend as far as possible the blessed Kingdom of the most Sacred Heart of Jesus. For wherever thou enters, one obtains the grace of conversion and growth in holiness, since it is through thy hands that all graces come to us from the most Sacred Heart of Jesus.
V. Allow me to praise thee O Sacred Virgin.
R. Give me strength against thine enemies.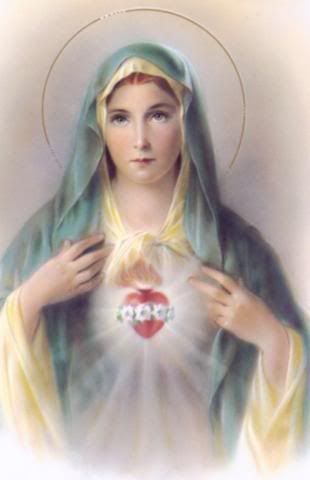 Invocations To the Immaculate Heart
Heart of Mary,
pray for us.
Heart of Mary, like unto the Heart of Jesus,
pray for us.
Heart of Mary, united to the Heart of Jesus,
pray for us.
Heart of Mary, Instrument of the Holy Spirit,
pray for us.
Heart of Mary, Sanctuary of the Divinity,
pray for us.
Heart of Mary, Tabernacle of God Incarnate,
pray for us.
Heart of Mary, always exempt from sin,
pray for us.
Heart of Mary, always full of grace,
pray for us.
Heart of Mary, blessed among all hearts,
pray for us.
Heart of Mary, Illustrious Throne of Glory,
pray for us.
Heart of Mary, Abyss and Prodigy of humility,
pray for us.
Heart of Mary, Glorious Holocaust of Divine Love,
pray for us.
Heart of Mary, nailed to the Cross of Jesus,
pray for us.
Heart of Mary, Comfort of the Afflicted,
pray for us.
Heart of Mary, Refuge of Sinners,
pray for us.
Heart of Mary, Hope of the Agonizing,
pray for us.
Heart of Mary, Seat of Mercy
pray for us.
V. Pray for us, O holy Mother of God,
R. That we may be made worthy of the promises of Christ.
Let Us Pray.
Almighty and eternal God, Who prepared a worthy dwelling place for the Holy Spirit in the Heart of the Blessed Virgin Mary, vouchsafe, we beseech Thee, to grant unto us who devoutly keep this commemoration in honor of the same most pure Heart, the grace to order our lives according to Thine own Heart. Through Christ Our Lord.
Amen.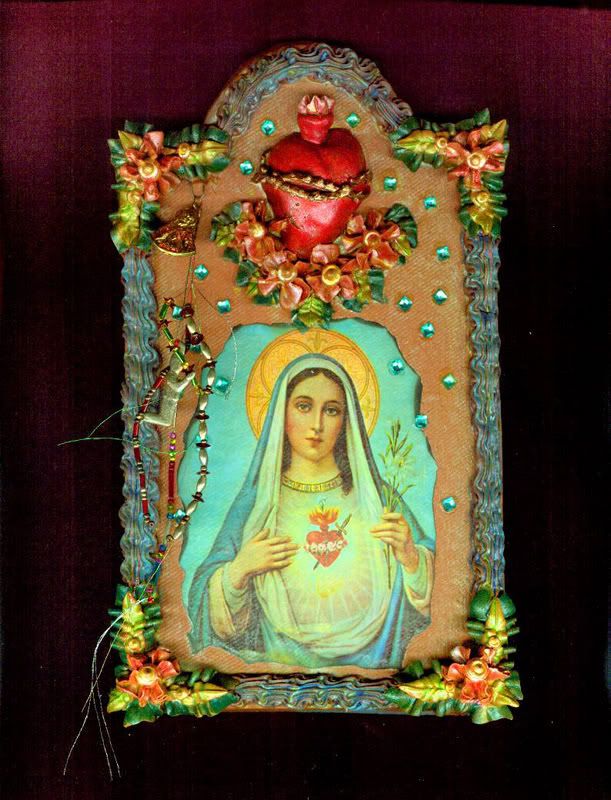 Act Of Charity for the Holy Souls
Eternal Heavenly Father,
Through the Immaculate Heart of Mary,
I offer Thee the most precious Body and Blood,
Soul and Divinity of Thine Only begotten Son, our Lord and Savior,
Jesus Christ,
With the merits and prayers of all Thy Saints,
And my whole self as victim-soul and holocaust,
In union with the Holy Sacrifice of the Mass,
Offered throughout the world,
For all the Holy Souls in Purgatory,
And for the souls of all poor sinners on earth,
Especially bishops, priests, and religious,
And those within my home and family,
According to Thy most holy Will,
In Jesus' Name and in the unity of the Holy Spirit,
One God forever and ever.
Amen.
Mary, Mother of Jesus and my Mother, pray for us.
Holy Angels and Saints of the Living God, pray for us.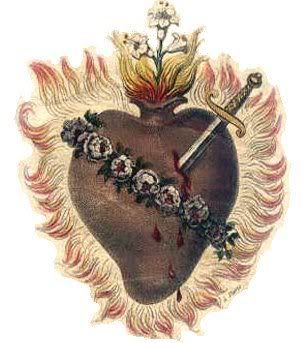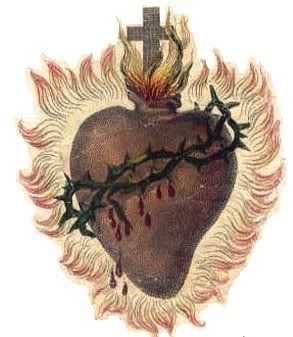 The Chaplet Of the Two Hearts
There are 20 beads in 5 sets [One can use the regular Rosary, just going around twice on the decades, saying three Hail Marys on each bead], each consisting of 1 Our Father and 3 Hail Marys.
These are the meditations for the five sets:
1. In honor of the Sacred Heart of Jesus.
2. In honor of the Immaculate Heart of Mary.
3. The Passion of Our Lord.
4. The Sorrows of Mary.
5. In atonement to the Hearts of Jesus and Mary.
At the end on the medal say the prayer to the United Hearts of Jesus and Mary:
O United Hearts of Jesus and Mary, Thou art all grace, all mercy, all love. Let my heart be joined to Thine, so that my every need is present in Thine United Hearts. Most especially, shed Thy grace upon this particular need [mention it]. Help me to recognize and accept Thy loving will in my life.
Amen.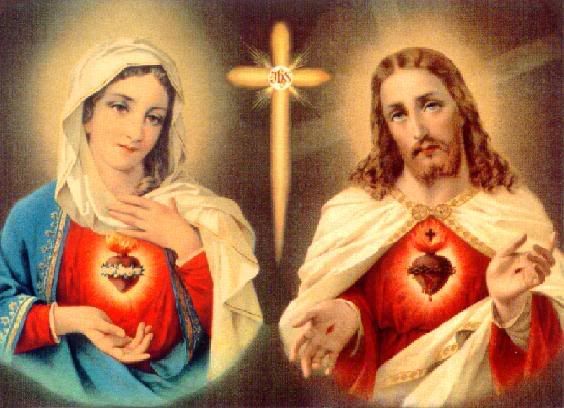 Chloe Agnew of Celtic Woman singing
The Ave Maria
, as arranged by Gonoud