Monday, March 10, 2014
Ember Alert
Wednesday, Friday, and Saturday of this week constitute the Lenten Embertide. Ember Days are set aside by the Church to mark the passage from one season to another and to prepare for major feasts. Ember Days are observed as days of fast and abstinence, and with specially intense prayer, alms giving, and other good works. I have noted before how Lent begins with a bang, since 5 of its first 11 days are days of fast and abstinence (Ash Wednesday and its Friday, and the 3 Ember Days this week). This is designed to get your attention, as we begin the severe mortification necessary to a holy Lent as we prepare for Easter.

Monday Of the First Week Of Lent
S. Pietro in Vincoli al Colle Oppio



From The Passion And Death of Jesus Christ, by Saint Alphonsus de Liguori:

O my most loving Saviour! I feel indeed that all Thy speak to me of the love that Thou bearest me. And who that had so many pfoofs of Thy love couldst resist loving Thee in return? St. Teresa was indded right, O most amyiable Jesus, when she said that he who loves Thee not gives a proof that he does not know Thee.


Devotions for a Lenten Monday Holy Hour
Dies Irae
Divine Mercy Chaplet
Seven Penitential Psalms
Prayer of St. Thomas More
Threnus Prayer of Saint Augustine
Devotion of the Five Sacred Wounds

Note: This is the Lenten Ember Week. Wednesday, Friday, and Saturday are Ember Days.

Sunday, March 09, 2014
Quadragesima Sunday, The First Sunday Of Lent
Station Church:
St. John Lateran
Devotions For a Lenten Sunday Holy Hour
Divine Mercy Chaplet
Seven Penitential Psalms
Prayer of St. Thomas More
Psalter of St. Jerome
Threnus Prayer of St. Augustine
Prayer from
The Passion And Death Of Jesus Christ
, by Saint Alphonsus de Liguori:
Therefore, O my Jesus, I cannot any longer, without injustice, dispose of myself, or of my own concerns, since Thou hast made me Thine by purchasing me through Thy death. My body, my soul, my life, are no longer mine; they are Thine and entirely Thine. In Thee alone, therefore, will I hope. O my God, crucified and dead for me, I have nothing else to offer Thee but this soul, which Thou hast bought with Thy Blood: to Thee I do offer it. Accept of my love, for I desire nothing but Thee, my Saviour, my God, my love, my all. Hitherto I have shown much gratitude towards men; to Thee alone have I, Alas! been most ungrateful. But now I love Thee, and I have no greater cause of sorrow than my having offended Thee. O Jesus, give me confidence by Thy Passion; root out of my heart every affection that belongs not to Thee. I will love Thee alone, Who dost deserve all of my love, and Who hast given me so much reason to love Thee. And who, indeed, could refuse to love Thee, when they see Thee, Who art the beloved of the Eternal Father, dying so cruel and bitter a death for our sake? O Mary, Mother of fair love, I pray thee through the merits of thy burning heart, obtain for me the grace to live only in order to love thy Son, Who, being in Himself worthy of an infinite love, has chosen at so great a cost to acquire to Himself the love of a miserable sinner like me. O love of souls! O my Jesus! I love Thee too little. O give me more love. Give me flames that may make me live always burning with Thy love! I do not deserve it, but Thou dost well deserve it, O Infinite Goodness.
Amen.
This I hope.
So may it be.
From
The Liturgical Year
, by Abbot Prosper Gueranger, OSB:
Lent solemnly opens today. We have already noticed that the four preceding days were added since the time of St. Gregory the Great, in order to make up forty days of fasting. Neither can we look upon Ash Wednesday as the solemn opening of the season; for the faithful are not bound to hear Mass on that day. The holy Church, seeing her children now assembled together, speaks to them, in her Office of Matins, these eloquent and noble words of St. Leo the Great: "Having to announce to you, dearly beloved, the most sacred and chief fast, how can I more appropriately begin, than with the words of the Apostle, in whom Christ Himself spoke, and by saying to you what has just been read: Behold! now is the acceptable time; behold! now is the day of salvation. For although there be no time which is not replete with divine gifts, and we may always, by God's grace, have access to His mercy, yet ought we all to redouble our efforts to make spiritual progress and be animated with unusual confidence, now that the anniversary of the day of our redemption is approaching, inviting us to devote ourselves to every good work, that so we may celebrate, with purity of body and mind, the incomparable mystery of our Lord's Passion.
"It is true that our devotion and reverence towards so great a mystery should be kept up during the whole year, and we ourselves should be at all times, in the eyes of God, the same as we are bound to be as we are bound to be at the Easter solemnity. But this is an effort which only few among us have the courage to sustain. The weakness of the flesh induces us to relax our austerities; the various occupations of everyday life take up our thoughts; and thus even the virtuous find their hearts clogged by this world's dust. Hence it is that our Lord has most providentially given us these forty days, whose holy exercises should be to us a remedy, whereby to regain our purity of soul. The good works and the holy fastings of this season were instituted as an atonement for, and an obliteration of, the sins we commit during the rest of the year.
"Now, therefore, that we are about to enter upon these days, which are so full of mystery, and which were instituted for the holy purpose of purifying both soul and body, let us, dearly beloved, be careful to do as the Apostle bids us, and cleanse ourselves from all defilement of the flesh and of the spirit: that thus the combat between the two substances being made less fierce, the soul, which, when she herself is subject to God, ought to be the ruler of the body, will recover her own dignity and position. Let us avoid giving offense to any man, so that there be none to blame or speak evil things of us. For we deserve the harsh remarks of infidels, and we provoke the tongues of the wicked to blaspheme religion, when we who fast lead unholy lives. For our fast does not consist in the mere abstinence from food; nor is it of much use to deny food to our body, unless we restrain the soul from sin."
Each Sunday of Lent offers to our consideration a passage from the Gospel, which is in keeping with the sentiments wherewith the Church would have us be filled. Today she brings before us the temptation of our Lord in the desert. What light and encouragement there is in this instruction!
We acknowledge ourselves to be sinners; we are engaged, at this very time, in doing penance for the sins we have committed-but how was it that we fell into sin? The devil tempted us; we did not reject the temptation; then we yielded to the suggestion, and the sin was committed. This is the history of our past; and such it would, also, be for the future, were we not to profit by the lesson given us today by our Redeemer.
When the Apostle speaks of the wonderful mercy shown us by our divine Saviour, who vouchsafed to make Himself like us in all things save sin, He justly lays stress on His temptations (cf. Heb. 4:15). He, who is very God, humbled Himself even so low as this, to prove how tenderly He compassionated us. Here, then, we have the Saint of saints allowing the wicked spirit to approach Him, in order that we might learn from His example, how we are to gain victory under temptation.
Satan has had his eye upon Jesus; he is troubled at beholding such matchless virtue. The wonderful circumstances of His birth; the shepherds called by angels to His crib, and the Magi guided by the star; the Infant's escape from Herod's plot; the testimony rendered to this new Prophet by John the Baptist: are all these things, which seem so out of keeping with the thirty years spent in obscurity at Nazareth, are a mystery to the infernal serpent, and fill him with apprehension. The ineffable mystery of the Incarnation has been accomplished unknown to him; he never once suspects that the humble Virgin, Mary, is she who was foretold by the prophet Isaisas, as having to bring forth the Emmanuel (Is. 7:14). But he is aware that the time has come, that the last week spoken of to Daniel has begun its course, and that the very pagans are looking towards Judea for a deliverer. He is afraid of this Jesus; he resolves to speak with Him, and elicit from Him some expression which will show Him whether He be or not the Son of God; he will tempt Him to some imperfection or sin, which, should He commit it, will prove that the object of so much fear is, after all, but a mortal man.
The enemy of God and men is, of course, disappointed. He approaches Jesus; but all his efforts turn only to his own confusion. Our Redeemer, with all the self-possession and easy majesty of a God-Man, repels the attacks of Satan; but He reveals not His heavenly origin. The wicked spirit retires without having made any discovery beyond this-that Jesus is a prophet, faithful to God. Later on, when he sees the Son of God treated with contempt, calumniated and persecuted; when he finds that his own attempts to have Him put to death are so successful; his pride and his blindness will be at their height; and not till Jesus expires on the cross, will he learn that his victim was not merely Man, but Man and God. Then he will discover how all his plots against Jesus have but served to manifest, in all their beauty, the mercy and justice of God: His mercy, because He saved mankind; and His justice, because He broke the power of hell forever.
Saturday, March 08, 2014
Saturday After Ash Wednesday


Station Church:
S. Agostino in Campo Marzio

Prayer from The Passion And Death Of Jesus Christ, by Saint Alphonsus de Liguori:
O Jesus! O treasure more worthy of love than all others! Why is it that men love Thee so little? O do Thou make known what Thou hast suffered for each of them, the love that Thou bearest them, the desire Thou hast to be loved by them, and how worthy Thou art of being loved. Make Thyself known, O my Jesus! Make Thyself loved.


Devotions for a Lenten Saturday Holy Hour:
Divine Mercy Chaplet
Seven Penitential Psalms
Prayer of St. Thomas More
Threnus Prayer
Stabat Mater Dolorosa
Litany of Our Lady of Sorrows
Sorrowful Mysteries

Friday, March 07, 2014
Former Feast Of the Crown Of Thorns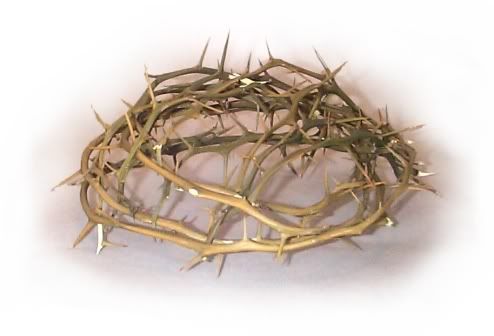 This Crown of Thorns is a reproduction based on the Wounds of Our Lord on the Holy Shroud of Turin.
Formerly, the Friday After Ash Wednesday was observed in many places as the Feast of the Crown of Thorns.
This feast was removed from the calendar even before Vatican II, and
The Catholic Encyclopedia
says it was never adopted for the Universal Church. It had moved around a bit before settling on the Friday After Ash Wednesday.
O Sacred Head surrounded by crown of piercing thorn!
O bleeding Head so wounded, reviled and put to scorn!
Death's pallid hue comes o'er Thee, the glow of life decays,
Yet angel hosts adore Thee and tremble as they gaze.

I see thy strength and vigor all fading in the strife,
And death, with cruel rigor, bereaving Thee of life;
O agony and dying! O love to sinners free!
Jesus, all grace supplying, O turn Thy face on me.

In this, Thy bitter passion, Good Shephered think of me
With thy most sweet compassion, unworthy though I be;
Beneath Thy Cross abiding forever would I rest,
In Thy dear love confiding, and in Thy presence blest.
Friday After Ash Wednesday
>
Station Church:
Ss. Giovanni e Paolo al Celio

From The Passion and Death Of Jesus Christ, by Saint Alphonsus de Liguori:

O my sweetest Redeemer! Thou hast done this for me without my having asked Thee; Thou hast not only saved me from death by the price of Thy blood, but also my parents and friends, so that I may have a good hope that we may all together enjoy Thy Presence forever in Paradise! O Lord! I thank Thee, and I love Thee, and I hope to thank Thee for it, and to love Thee forever in that blessed country.
Amen.

Devotions For a Lenten Friday Holy Hour:
Dies Irae
Divine Mercy Chaplet
Seven Penitential Psalms
Prayer of St. Thomas More
Threnus Prayer of Saint Augustine
Devotions To the Holy Cross
Stations of the Cross

Thursday, March 06, 2014
Thursday After Ash Wednesday
Agony In the Garden, by Bellini
Station Church: S. Giorgio al Velabro


From The Passion and Death of Jesus Christ, by Saint Alophonsus de Liguori:

O dearest Saviour! Thou wert, then, content, in order to obtain for me the blessing of God, to embrace the dishonor of appearing on the Cross accursed in the sight of the whole world, and even forsaken in Thy sufferings by Thine Eternal Father,- a suffering which made Thee cry out in a loud voice, "My God, My God, Why hast Thou forsaken me?"... O prodigy of compassion! O excess of love of God towards men! And how can there be a soul who believes this, O my Jesus, and yet loves Thee not?
Amen.

There are so many good prayers that Saint Alphonsus composed for his writings on the Passion that, for the duration of Lent, I will post one each day.

Devotions For A Lenten Thursday Holy Hour:

Dies Irae
Divine Mercy Chaplet
Seven Penitential Psalms
Prayer of St. Thomas More
Threnus Prayer of Saint Augustine
Devotion To the Holy Face

Wednesday, March 05, 2014
Ash Wednesday, 2014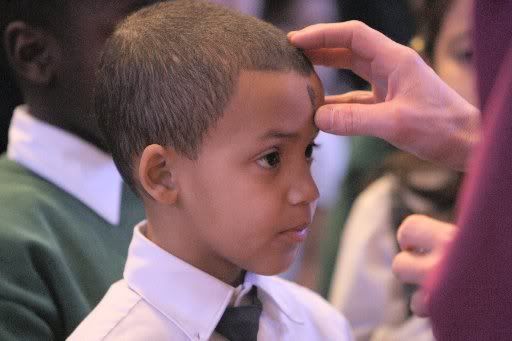 Memento, homo, quia pulvis es, et in pulverem reverteris.
Remember, man, that thou art dust, and unto dust thou shalt return.
Carnival is over. Now the Lenten fast begins.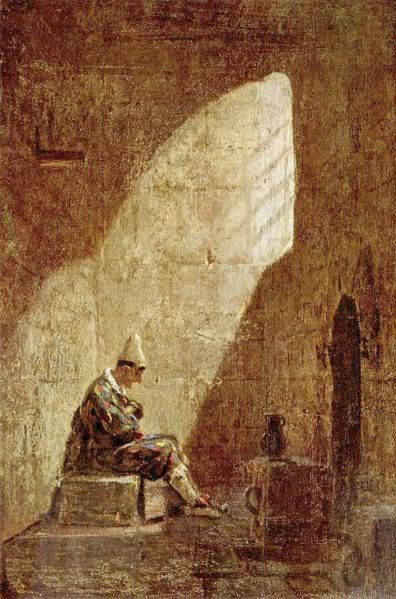 Station Church:
S. Sabina all'Aventino
From
The Passion and Death Of Jesus Christ
, by Saint Alphonsus de Liguori:
Thou didst, then, O my beloved Redeemer, choose by Thy death to sacrifice Thyself in order to obtain the pardon of my sins. And what return of gratitude shall I then make to Thee? Thou hast done too much to oblige me to love Thee; I should indeed be most ungrateful to Thee if I did not love Thee with my whole heart. Thou hast given for me Thy divine life; I, miserable sinner that I am, give Thee my own life. Yes. I will at least spend that period of life that remains to me only in loving Thee, obeying Thee, and pleasing Thee.
Amen.
Fish Eaters
on Ash Wednesday
The Cornell Society For A Good Time
on whether to display your ashes.
The Catholic Encyclopedia
on Ash Wednesday
.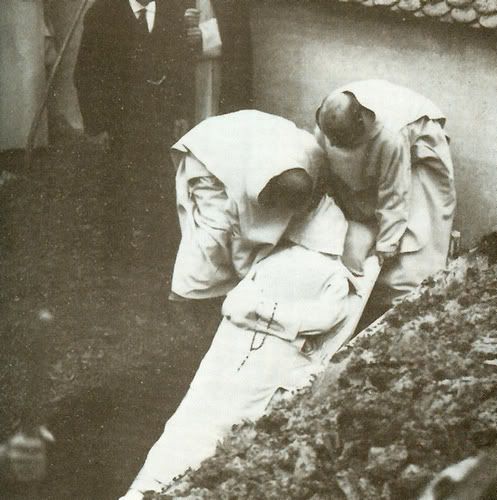 Devotions For a Lenten Wednesday Holy Hour:
Dies Irae
Divine Mercy Chaplet
Seven Penitential Psalms
Prayer of St. Thomas More
Threnus Prayer
Seven Prayers of St. Gregory
All of these prayers can be found at
Recta Ratio: The Yahoo Group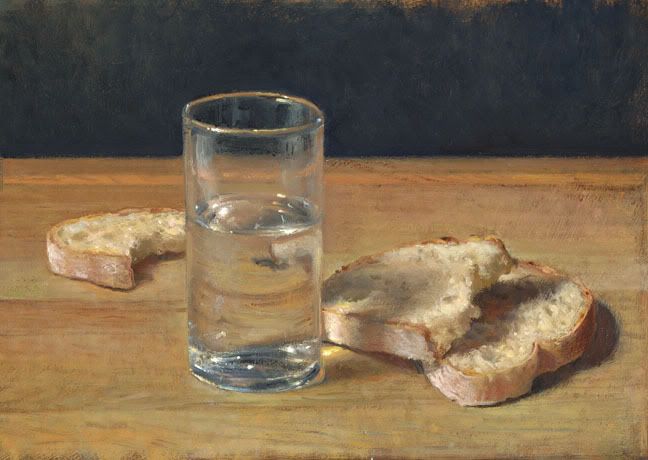 Sunday, February 16, 2014
Septuagesima Sunday
The Mystery of Septuagesima
from Abbott Prosper Gueranger,
The Liturgical Year
The season upon which we are now entering is expressive of several profound mysteries. But these mysteries belong not only to the three weeks which are prearatory to Lent: they continue throughout the whole period of time which separates us from the great feast of Easter.
The number seven is the basis of all these mysteries. We have already seen how the holy Church came to introduce the season of Septuagesima into her calendar. Let us now meditate on the doctrine hidden under the symbols of her liturgy. And first, let us listen to St. Augustine, who thus gives is the clue to the whole of our season's mysteries. 'There are two times,' says the holy Doctor: 'one which is now, and is spent in the temptations and tribulations of this life; the other which shall by then, and shall be spent in eternal security and joy. In figure of these, we celebrate two periods: the time before Easter, and the time after Easter. That which is before Easter signifies the sorrow of this present life; that which is after Easter, the blessedness of our future state... Hence it is that we spend the first in fasting and prayer; and in the second we give up our fasting, and give ourselves to praise.'
The Church, the intepreter of the sacred Scriptures, often speaks to us of two places, which correspond with these two times of St. Augustine. These two places are Babylon and Jerusalem. Babylon is the image of this world of sin, in the midst whereof the Christian has to spend his years of probation; Jerusalem is the heavenly country, where he is to repose after all his trials. The people of Israel, whose whole history is but one great type of the human race, was banished from Jerusalem and kept in bondage in Babylon.
Now, this captivity, which kept the Israelites exiles from Sion, lasted seventy years; and it is to express this mystery, as Alcuin, Amalarius, Ivo of Chartres, and all the great liturgists tell us, that the Church fixed the number of seventy for the days of expiation. It is true, there are but sixty-three days between Septuagesima and Easter; but the Church, according to the style so continually used in the sacred Scriptures, uses the round number instead of the literal and precise one.
The duration of the world itself, according to the ancient Christian tradition, is divided into seven ages. The human race must pass through the seven ages before the dawning of the day of eternal life. The first age included the time from the creation of Adam to Noah; the second begins with Noah and the renovation of the earth by the deluge, and ends with this the vocation of Abraham; the third opens with this first formation of God's chosen people, and continues as far as Moses, through whom God gave the Law; the fourth consists of the period between Moses and David, in whom the house of Juda received the kingly power; the fifth is formed of the years which passed between David's reign and the captivity of Babylon, inclusively; the sixth dates from the return of the Jews to Jerusalem, and takes us on as far as the birth of our Saviour. Then, finally, comes the seventh age; it starts with the rising of this merciful Redeemer, the Sun of justice, and is to continue till the dread coming of the Judge of the livng and the dead. These are the seven great divisions of time; after which, eternity.
In order to console us in the midst of the combats, which so thickly beset our path, the Church, like a beacon shining amidst the darkness of this our earthly abode, shows us another seven, which is to succeed the one we are now preparing to pass through. After the Septuagesima of mourning, we shall have the bright Easter with its seven weeks of gladness, foreshadowing the happiness and bliss of heaven. After having fasted with our Jesus, and suffered with Him, the day will come when we shall rise together with Him, and our hearts shall follow Him to the hightest heavesn; and then after a brief interval, we shall feel the Holy Ghost descending upon us, with His seven Gifts. The celebration of all these wondrous joys will take us seven weeks, as the great liturgists observe in their interpretation of the rites of the Church. The seven joyous weeks from Easter to Pentecost will not be too long for the future glad mysteries, which, after all, will be but figures of a still gladder future, the future of eternity.
Having heard these sweet whisperings of hope, let us now bravely face the realities brought before us by our dear mother the Church. We are sojourners upon this earth; we are exiles and captives in Babylon, that city which plots our ruin. If we love our country, if we long to return to it, we must be proof against the lying allurements of this strange land, and refuse the cup she proffers us, and with which she maddens so many of our fellow captives. She invites us to join in her feasts and her songs; but we must unstring our harps, and hang them on the willows that grow on her river's bank, till the signal be given for our return to Jerusalem. She will ask us to sing to her the melodies of our dear Sion: but how shall we, who are so far from home, have heart to 'sing the song of the Lord in a strange land'? No, there must be no sign that we are content to be in bondage, or we shall deserve to be slaves forever.
These are the sentiments wherewith the Church would inspire us during the penitential season which we are now beginning. She wishes us to reflect on the dangers that beset us; dangers which arise from ourselves and from creatures. During the rest of the year she loves to hear us chant the song of heavne, the sweet Alleluia; but now, she bids us close our lips to this word of joy, because we are in Babylon. We are pilgrims absent from our Lord, let us keep our glad hymn for the day of His return. We are sinners, and have but too often held fellowship with the world of God's enemies; let us become purified by repentance, for it is written that 'praise is unseemly in the mouth of a sinner.'
The leading feature, then, of Septuagesima, is the total suspension of the Alleluia, which is not to again be heard upon the earth until the arrival of that happy day, when having suffered death with our Jesus, and having been buried together with Him, we shall rise again with Him to a new life.
The sweet hymn of the angels, Gloria in excelsis Deo, which we have sung every Sunday since the birth of our Saviour in Bethlehem, is also taken from us; it is only on the feasts of the saints which may by kept during the week that we shall be allowed to repeat it. The night Office of the Sunday is to lose also, from now till Easter, its magnificent Ambrosian hymn, the Te Deum; and at the end of the holy Sacrifice, the deacon will no longer dismiss the faithful with his solemn Ite, Missa est, but will simply invite them to continue their prayers in silence, and bless the Lord, the God of mercy, who bears with us, notwithstanding all our sins.
After the Gradual of the Mass, instead of the thrice repeated Alleluia, which prepared our hearts to listen to the voice of God in the holy Gospel, we hsall hear but a mournful and protracted chant, called, on that account, the Tract.
That the eye, too, may teach us that the season we are entering on is one of mourning, the Church will vest her ministers (both on Sundays and on the days during the week which are not feasts of Saints) in the sombre purple. Until Ash Wednesday, however, she permits the deacon to wear his dalmatic, and the subdeacon his tunic; but from that day forward, they must lay aside these vestments of joy, for Lent will then have begun and our holy mother will inspire us with the deep spirit of penance, but suppressing everything of that glad pomp, which she loves at other seasons, to bring into the sanctuary of her God.