Monday, September 01, 2014
Saint Giles, Abbot & Confessor
From The Catholic Encyclopedia:
An Abbot, said to have been born of illustrious Athenian parentage about the middle of the seventh century. Early in life he devoted himself exclusively to spiritual things, but, finding his noble birth and high repute for sanctity in his native land an obstacle to his perfection, he passed over to Gaul, where he established himself first in a wilderness near the mouth of the Rhone and later by the River Gard. But here again the fame of his sanctity drew multitudes to him, so he withdrew to a dense forest near Nîmes, where in the greatest solitude he spent many years, his sole companion being a hind. This last retreat was finally discovered by the king's hunters, who had pursued the hind to its place of refuge. The king [who according to the legend was Wamba (or Flavius?), King of the Visigoths, but who must have been a Frank, since the Franks had expelled the Visigoths from the neighbourhood of Nîmes almost a century and a half earlier] conceived a high esteem for solitary, and would have heaped every honour upon him; but the humility of the saint was proof against all temptations. He consented, however, to receive thenceforth some disciples, and built a monastery in his valley, which he placed under the rule of St. Benedict. Here he died in the early part of the eighth century, with the highest repute for sanctity and miracles.
His cult spread rapidly far and wide throughout Europe in the Middle Ages, as is witnessed by the numberless churches and monasteries dedicated to him in France, Germany, Poland, Hungary, and the British Isles; by the numerous manuscripts in prose and verse commemorating his virtues and miracles; and especially by the vast concourse of pilgrims who from all Europe flocked to his shrine. In 1562 the relics of the saint were secretly transferred to Toulouse to save them from the hideous excesses of the Huguenots who were then ravaging France, and the pilgrimage in consequence declined. With the restoration of a great part of the relics to the church of St. Giles in 1862, and the discovery of his former tomb there in 1865, the pilgrimages have recommenced. Besides the city of St-Gilles, which sprang up around the abbey, nineteen other cities bear his name, St-Gilles, Toulouse, and a multitude of French cities, Antwerp, Bridges, and Tournai in Belgium, Cologne and Bamberg, in Germany, Prague and Gran in Austria-Hungary, Rome and Bologna in Italy, possess celebrated relics of St. Giles. In medieval art he is a frequent subject, being always depicted with his symbol, the hind. His feast is kept on 1 September. On this day there are also commemorated another St. Giles, an Italian hermit of the tenth century (Acta SS., XLI, 305), and a Blessed Giles, d. about 1203, a Cistercian abbot of Castaneda in the Diocese of Astorga, Spain (op. cit. XLI, 308).
Saint Giles, please pray for us!
Saturday, August 30, 2014
Saint Rose Of Lima
Friday, August 29, 2014
The Beheading Of Saint John the Baptist
This year, Summer began and ended with the Baptist. It was a cold Spring, and the weather did not become warm until just about the Nativity of the Baptist, what the Europeans call MidSummer Night. And it is quite cool thus morning as we enter the Labor Day weekend.
Thursday, August 28, 2014
Saint Augustine Of Hippo, Bishop, Confessor, & Doctor Of the Church
Saint Augustine by Sandro Botticelli, 1445
Here is what the Golden Legend has to say about Saint Augustine
Here is a short biography of this great doctor of the Church
.
Saint Augustine's Threnus Prayer
It is sometimes called
A Prayer For Those In Tribulation
This is one of the very best penitential prayers I have ever come across and it reflects a deep understanding of fallen human nature.
(based on the translation by Michael W. Martin of
Thesaurus Preces Latinarum
)
We would be wise to place before Thine eyes, O Lord,
Our misdeeds and the wounds we receive.
For if we do, the less we suffer
And the greater we merit.
We feel the punishment for sin,
Yet we do not shun our obstinacy in sinning.
Our fragile nature is shattered by Thy scourges,
Yet our evil ways remain unchanged.
The sick mind is wrenched,
Yet the stiff neck is not bent.
Life sighs in pain,
And yet, it does not amend itself.
If Thou waiteth, we do not reform,
If Thou punisheth, we do not last.
When accused, we admit what we have done,
Yet when punished, we forget.
If Thou punisheth, we make promises;
If Thou holdeth back the sword, we do not carry out our promises.
If Thou striketh us, we cry out that Thou might spare us;
If Thou sparest us, we again provoke Thee to strike us.
If difficulties come, we ask for a time for repentance.
If mercy comes to our aid, we abuse Thy patience which has spared us.
Even when our wounds are scarcely healed,
Our ungrateful mind forgets.
If Thou hearest us quickly, we become haughty from mercy.
If Thou art slow, we complain out of impatience.
We are willing to serve Thee because of what Thou hast done,
Yet we do not fear to neglect what Thou willst have us do.
Thou hast in Thy power, O Lord, we confessed sinners;
Be merciful, for Thou art kind and loving.
We have known that, unless Thou forgiveth us,
Thou shalt justly punish us.
But with Thee is much pity
And abundant forgiveness.
Grant, without any merit on our part, what we ask,
O Thou, who hast made from nothing those who ask Thee.
Have mercy on us crying out to Thee, O Lord.
May the voice of the faithful and of the tearful stir up Thy mercy.
May that forgiveness not consider that we sin,
While it reflects on the fact we ask.
Since it is a great misery that we are accused,
May the fact that we are miserable make Thy mercy be the greater.
We beg Thy help,
And before Thee we place the evils and sorrows of our crimes.
By our prayers we look for Thy mercy,
The very mercy which we have spurned by our sins.
Raise us up in Thy mercy, O Lord our God,
So that in the fellowship of salvation and the joy of charity,
While we long to be saved,
We may rejoice in the faith and peace of all the nations.
Through Christ our Lord Who lives and reigns with Thee and the Holy Ghost, one God, world without end.
Amen.
Wednesday, August 27, 2014
The Book By the Five Cardinals In Defense Of the Teaching On ReMarriage Is Available For Pre-Order
The Five Cardinals who took pen in hand to address the proposals of Walter Cardinal Kasper regarding how the Church deals with divorce and remarriage is now available for pre-order.
Just in time for the October synod of bishops.
Cardinal Burke, Cardinsl Mueller, and Cardinal Brandsmueller are among the authors. Cardinal Burke was fully expected to defend true doctrine. I must say that I had some misgivings when Pope Benedict appointed then Archbishop Mueller to the CDF. But he has allayed my fears and now find him trustworthy in defending the Church's doctrine!
Why not others? Well, too many cooks spoil the soup. My understanding is that there is wide and deep opposition to Kasper's proposals among the Cardinals in general. And with good reason! Good to see 2 German Cardinals countering the influence of Kasper in the Getman bishops' conference.
I wish this book a wide readership and acceptance, for the good of the Church!
Monday, August 25, 2014
Saint King Louis Of France, Confessor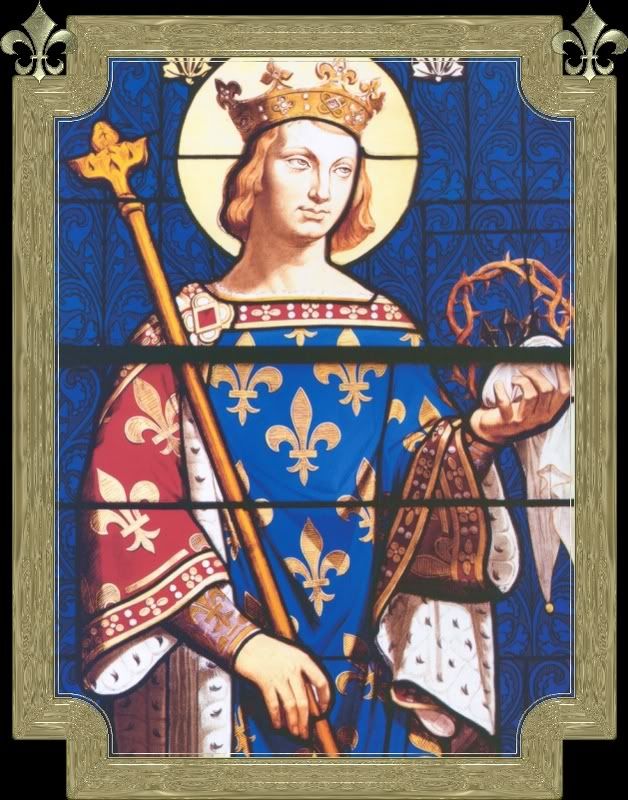 Saint Louis, please pray for us!
Friday, August 22, 2014
In Bael na m Blath In the Year '22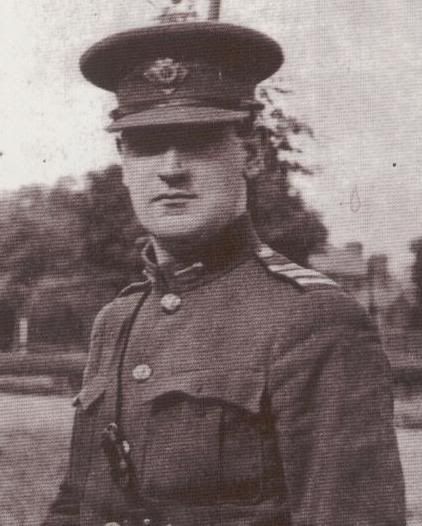 Ninety-two years ago today, Michael Collins, driving force of Irish independence and first Commander-in-Chief of the Irish Army was murdered in an ambush by the IRA. Collins had been instrumental in negotiating the treaty by which Britain recognized Irish independence within the Commonwealth and in urging Irish voters to accept the treaty. But the IRA and de Valera, demanding a complete break no matter what the realities, would not be satisfied with the results of the election, and began a civil war.
Collins, a native of Cork, was driving along rural areas in an inspection tour to gauge sentiment and to do some secret negotiation with the IRA. In fact, he was travelling under a guarantee of safe conduct from the IRA. In Bael na m Blath ("the Mouth of Flowers"), the small convoy was ambushed. Collins took cover behind his car. The attack lost steam, and Collins' guard began to take the initiative. Just then, Collins stood up to either order his men to go up into the hills after the attackers, or call on the partisans to surrender. He was shot through the head. Ireland was doomed to 50 years of corruption and stagnation under de Valera and his successors.
The story has a personal side for me. My grandfather (who was from Lahinch, Co. Clare) had taken the British civil service exam with Collins and the two became friends. Granddad Fitzpatrick was a golf pro, but worked for the Royal Postal Service in Co. Clare as his day job. Collins took a job with the postal service in London. They went their separate ways during the Great War, with Collins agitating and becoming a leader in the Easter Rebellion. My grandfather joined his brothers in enlisting in the Connaught Rangers and fighting on the Western Front (and become a gas casualty at the 2nd Battle of Ypres). Collins negotiated the treaty that led to the recognition of the Irish Free State, and became a prime mover in its government, first Finance Minister, then Commander-in-Chief of the Army. My grandparents, from what I can gather, approved of the treaty (being from Clare and safely in the West, and not under any romantic delusions about "all or nothing"). After the treaty was approved, Collins sent my grandfather a signed photo clipped out of the newspaper of himself in his new uniform as Commander-in-Chief. Collins was murdered within ten days. Ten days after that, my grandfather and grandmother decamped for a new life in America, escaping an Ireland torn by civil war.
Sean Dunphy, Michael Collins
Johnny McEvoy, Ballad Of Michael Collins
Funeral Of Michael Collins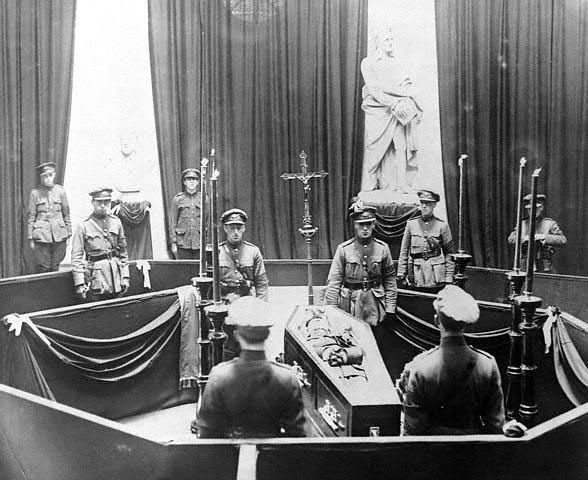 Apparition Of Our Blessed Lady At Knock
August 21st if the anniversary date of Our Lady of Knock, one of the better-documented Marian apparitions of modern times.
In Knock, County Mayo, on August 21st, 1879, The Blessed Mother, St. Joseph, and St. John the Evangelist appeared at the south gable of the parish church to 15 people over a period of 2 hours. Two ecclesiastical commissions have looked into the Knock apparition, and have endorsed it as authentic.
In 1979, Pope John Paul II said Mass in Knock. Knock has become, after Lourdes and Fatima, the most popular Marian pilgrimage site.
This is Knock's official website.

Lady of Knock
by Dana (Rosemary Scallon)
There were people of all ages
Gathered 'round the gable wall
Poor and humble men and women,
Little children that thou called.
We are gathered here before thee,
And our hearts are just the same
Filled with joy at such a vision,
As we praise Thy name.
Refrain:
Golden Rose, Queen of Ireland,
All my cares and troubles cease
As we kneel with love before thee,
Lady of Knock, my Queen of Peace
Though thy message was unspoken,
Still the truth in silence lies
As we gaze upon thy vision,
And the truth I try to find.
Here I stand with John the teacher,
And with Joseph at your side
And I see the Lamb of God,
On the Altar glorified.
Refrain
And the Lamb will conquer
And the woman clothed in the sun
Will shine Her light on everyone.
And the lamb will conquer
And the woman clothed in the sun,
Will shine Her light on everyone.
Daniel O'Donnell sings
Lady Of Knock
Here is The Wolfe Tones' tribute to the priest who made Knock an international pilgrimage site,
Monsignor Horan
:
Refrain:
Traditional Feast Of the Immaculate Heart Of Our Blessed
We love her so much, let's celebrate her Immaculate Heart twice this summer! In the 1962 Ordo, this feast falls on the Octave Day of her Assumption.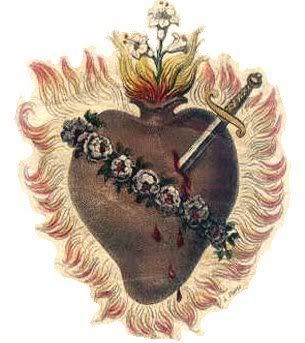 The Five First Saturdays
THE observance of the First Saturday in honor of the Immaculate Heart of Mary is intended to console her Immaculate Heart, and to make, reparation to it for all the blasphemies and ingratitude of men. This devotion and the wonderful promises connected with it were revealed by the Blessed Virgin with these words recorded by Lucy, one of the three children to whom the Blessed Virgin appeared at Fatima, Potugal, in 1917:
I promise to help at the hour of death, with the graces needed for salvation, whoever on the First Saturday of five consecutive months shall:
1. Confess and receive Holy Commtmion.
2. Recite five decades of the Rosary.
3. And keep me company for fifteen minutes while meditating on one or more of the fifteen mysteries of the Rosary, with the intention of making reparation to me.
ACT OF REPARATION TO BE RECITED ON THE FIRST SATURDAYS
O MOST holy Virgin and our Mother, we listen with grief to the complaints of thine Immaculate Heart surrounded with the thorns which ungrateful men place therein at every moment by their blasphemies and ingratitude. Moved by the ardent desire of loving thee as our Mother and of promoting a true devotion to thy Immaculate Heart, we prostrate ourselves at thy feet to prove the sorrow we feel for the grievances that men cause thee, and to atone, by means of our prayers and sacrifices, for the offenses with which men return thy tender love.
Obtain for them and for us the pardon of so many sins. A word from thee will obtain grace and amendment for us all.
Hasten, O Lady, the conversion of sinners that they may love Jesus and cease to offend the Lord, already so much offended and will not fall into Hell.
Turn thy eyes of mercy toward us that henceforth we may love God with all our heart while on earth and enjoy Him forever in Heaven. Amen.
NOTE: Confession during the week, preceding the first Friday, will suffice for the first Saturday, or conversely when Saturday is the first day of the month. The Rosary may be recited at any convenient time of the day, and the fifteen-minute meditation may be made at any time during the day on one or more of the fifteen mysteries of the Rosary. A sermon for the occasion may be substituted for the meditation. Meditation consists in thinking over the events as if one were present at the happenings mentioned in the mystery, or in considering what one would have done had he been present during the event considered in a particular mystery, all in the spirit of reparation to the Immaculate Heart.
ACT OF CONSECRATION TO THE IMMACULATE HEART OF MARY
QUEEN of the Most Holy Rosary, Refuge of the Human Race, Victress in all God's battles, we humbly prostrate ourselves before thy throne, confident that we shall receive mercy, grace and bountiful assistance and protection in the present calamity, not through our own inadequate merits, but solely through the great goodness of thy Maternal Heart.
To thee, to thy Immaculate Heart in this, humanity's tragic hour, we consign and consecrate
ourselves in union not only with the Mystical Body of thy Son, Holy Mother Church, now in such suffering and agony in so many places and sorely tried in so many ways, but also with the entire world, torn by fierce strife, consumed in a fire of hate, victim of its own wickedness.
May the sight of the widespread material and moral destruction of the sorrows and anguish of countless fathers and mothers, husbands and wives, brothers and sisters, and innocent children of the great number of lives cut off in the flower of youth, of the bodies mangled in horrible slaughter, and of the tortured and agonized souls in danger of being lost eternally move thee to compassion. O Mother of Mercy obtain peace for us from God, and, above all, procure for us those graces which prepare, establish and assure the peace.
Queen of Peace, pray for us and give to the world now at war, the peace for which all peoples are longing, peace in the truth, justice and charity of Christ. Give peace to the warring nations and to the souls of men, that in the tranquillity of order the Kingdom of God may prevail.
Extend thy protection to the infidels and to all those still in the shadow of death give them peace and grant that on them, too, may shine the sun of truth that they may unite with us in proclaiming before the one and only Savior of the World: "Glory to God in the highest and peace to men of good will."
Give peace to the peoples separated by error or by discord and especially to those who profess such singular devotion to thee, and in whose homes an honored place was ever accorded thy venerated image today, perhaps often kept hidden to await better days bring them back to the one fold of Christ, under the one true Shepherd.
Obtain peace and complete freedom for the Holy Church of God, stay the spreading flood of modern paganism; enkindle in the faithful the love of purity, the practice of the Christian life and an apostolic zeal so that the servants of God may increase in merit and in number.
Lastly, as the Church and the entire human race were consecrated to the Sacred Heart of Jesus, so that in reposing all hope in Him, He might become for them the sign and pledge of Victory and salvation; so we, in like manner, consecrate ourselves forever also to thee and to thine Immaculate Heart, our Mother and Queen, that thy love and patronage may hasten the triumph of the Kingdom of God and that all nations, at peace with one another and with God may proclaim thee blessed and with thee may raise their voices to resound from pole to pole the chant of the everlasting Magnificat of glory, love and gratitude to the Heart of Jesus, where alone they can find truth and peace.
Litany Of the Immaculate Heart
(
For Private Use Only)
Lord, have mercy on us.
Christ, have mercy on us.
Lord have mercy on us. Christ hear us.
Christ graciously hear us.
God the Father of Heaven, have mercy on us.
God the Son, Redeemer of the world, have mercy on us.
God the Holy Spirit, have mercy on us.
Holy Trinity, One God, have mercy on us.
Immaculate Heart of Mary, favorite Daughter of God the Father,
pray for us.
Immaculate Heart of Mary, Mother of God the Son,
pray for us.
Immaculate Heart of Mary, Spouse of the Holy Spirit,
pray for us.
Immaculate Heart of Mary, redeemed in a sublime
manner by the merits of thy Son, pray for us.
Immaculate Heart of Mary, Mother and
Model of the Church, pray for us.
Immaculate Heart of Mary, excellent exemplar
in faith and charity, pray for us.
Immaculate Heart of Mary, who conceived the Word
of God in Thy heart before thy did in thy womb,
pray for us.
Immaculate Heart of Mary, who gave precious Blood
to the Son of God in His human nature, pray for us.
Immaculate Heart of Mary, conceived free of Original Sin,
pray for us.
Immaculate Heart of Mary, who embraced God's saving will
with a full heart, impeded by no sin, pray for us.
Immaculate Heart of Mary, whose sweet soul a
sword pierced beneath the Cross, pray for us.
Immaculate Heart of Mary, given to us as Mother
by Jesus as He hung dying on the Cross,
pray for us.
Immaculate Heart of Mary, who accepted us
as sons as thou stood beneath the Cross,
pray for us.
Immaculate Heart of Mary, all pure and holy,
pray for us.
Immaculate Heart of Mary, exalted by Divine grace
above all Angels and men, pray for us.
Immaculate Heart of Mary, Mediatrix of grace,
pray for us.
Lamb of God, Who takest away the sins of the world,
spare us, O Lord.
Lamb of God, Who takest away the sins of the world,
graciously hear us, O Lord.
Lamb of God, Who takest away the sins of the world,
have mercy on us.
V. Pray for us, O Holy Mother of God.
R. That we may be made worthy of the
promises of Christ.
Let us pray.
O Immaculate Heart of Mary, bearing with love for all thy children upon earth, pray for us who have recourse to thee. Show to Our Heavenly Father the Wound in the Heart of Thy Son
and at the same time offer again the sword that pierced thy Sorrowful and Immaculate Heart as thou suffered by compassion with Thy Divine Son for the redemption of the world. By thy intercession, through the merits of Jesus Christ, bring us to salvation.
Amen.
Act Of Consecration To the Immaculate Heart From The Raccolta
O Mary, Virgin most powerful and Mother of mercy, Queen of Heaven and Refuge of sinners, I consecrate myself to thine Immaculate Heart.
I consecrate to thee my very being and my whole life; all that I have, all that I love, all that I am. To thee I give my body, my heart and my soul; to thee I give my home, my family, my country. We desire that all that is in me and around me may belong to thee, and may share in the benefits of thy motherly benediction. And that this act of consecration may be truly efficacious and lasting, I renew this day at thy feet the promises of my Baptism and my first Holy Communion. I pledge myself to profess courageously and at all times the truths of our holy Faith, and to live as befits a Catholic who is duly submissive to all the directions of the Pope and the Bishops in communion with him. I pledge myself to keep the commandments of God and His Church, in particular to keep holy the Lord's Day. I likewise pledge myself to make the consoling practices of the Christian religion, and above all, Holy Communion, an integral part of my life, in so far as I may be able so to do. Finally, I promise thee, O glorious Mother of God and loving Mother of men, to devote myself whole-heartedly to the service of thy blessed cult, in order to hasten and assure, through the sovereignty of thine Immaculate Heart, the coming of the kingdom of the Sacred Heart of thine adorable Son, in my own heart and in those of all men, in our country and in all the world, as in Heaven, so on earth.
Amen.
Consecration to the Immaculata by Saint Maximilian Kolbe
O Immaculata, Queen of Heaven and earth, refuge of sinners
and our most loving Mother, God has willed to entrust the entire
order of mercy to thee. I, N. . . , a repentant sinner, cast myself at
thy feet humbly imploring thee to take me with all that I am and have,
wholly to thyself as thy possession and property. Please make of me,
of all my powers of soul and body, of my whole life, death and eternity,
whatever most pleases thee.
If it pleases thee, use all that I am and have without reserve, wholly
to accomplish what was said of thee: "She will crush your head,"
and, "Thou alone have destroyed all heresies in the whole world."
Let me be a fit instrument in thine Immaculate and merciful hands for
introducing and increasing the maximum in all the many strayed and
indifferent souls, and thus help extend as far as possible the blessed
Kingdom of the most Sacred Heart of Jesus. For wherever thou enters,
one obtains the grace of conversion and growth in holiness, since it is
through thy hands that all graces come to us from the most
Sacred Heart of Jesus.
V. Allow me to praise thee O Sacred Virgin.
R. Give me strength against thine enemies.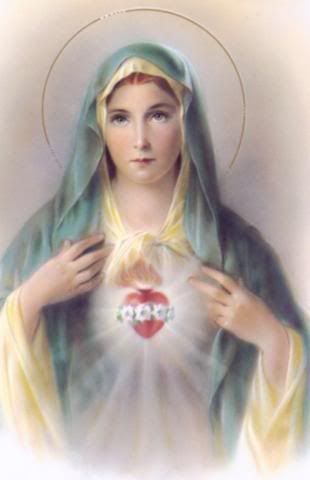 Invocations To the Immaculate Heart
Heart of Mary,
pray for us.
Heart of Mary, like unto the Heart of Jesus,
pray for us.
Heart of Mary, united to the Heart of Jesus,
pray for us.
Heart of Mary, Instrument of the Holy Spirit,
pray for us.
Heart of Mary, Sanctuary of the Divinity,
pray for us.
Heart of Mary, Tabernacle of God Incarnate,
pray for us.
Heart of Mary, always exempt from sin,
pray for us.
Heart of Mary, always full of grace,
pray for us.
Heart of Mary, blessed among all hearts,
pray for us.
Heart of Mary, Illustrious Throne of Glory,
pray for us.
Heart of Mary, Abyss and Prodigy of humility,
pray for us.
Heart of Mary, Glorious Holocaust of Divine Love,
pray for us.
Heart of Mary, nailed to the Cross of Jesus,
pray for us.
Heart of Mary, Comfort of the Afflicted,
pray for us.
Heart of Mary, Refuge of Sinners,
pray for us.
Heart of Mary, Hope of the Agonizing,
pray for us.
Heart of Mary, Seat of Mercy
pray for us.
V. Pray for us, O holy Mother of God,
R. That we may be made worthy of the promises of Christ.
Let Us Pray.
Almighty and eternal God, Who prepared a worthy dwelling place for the Holy Spirit in the Heart of the Blessed Virgin Mary, vouchsafe, we beseech Thee, to grant unto us who devoutly keep this commemoration in honor of the same most pure Heart, the grace to order our lives according to Thine own Heart. Through Christ Our Lord.
Amen.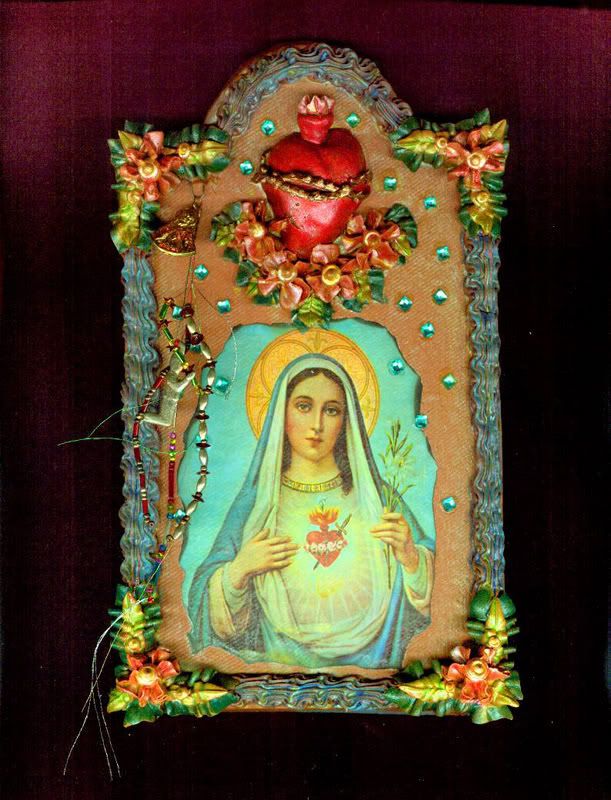 Act Of Charity for the Holy Souls
Eternal Heavenly Father,
Through the Immaculate Heart of Mary,
I offer Thee the most precious Body and Blood,
Soul and Divinity of Thine Only begotten Son, our Lord and Savior,
Jesus Christ,
With the merits and prayers of all Thy Saints,
And my whole self as victim-soul and holocaust,
In union with the Holy Sacrifice of the Mass,
Offered throughout the world,
For all the Holy Souls in Purgatory,
And for the souls of all poor sinners on earth,
Especially bishops, priests, and religious,
And those within my home and family,
According to Thy most holy Will,
In Jesus' Name and in the unity of the Holy Spirit,
One God forever and ever.
Amen.
Mary, Mother of Jesus and my Mother, pray for us.
Holy Angels and Saints of the Living God, pray for us.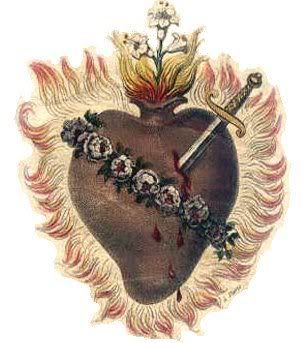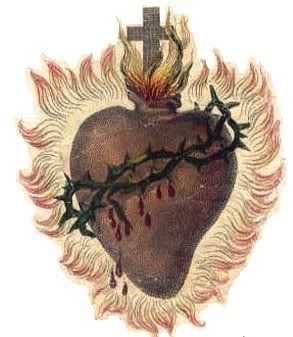 The Chaplet Of the Two Hearts
There are 20 beads in 5 sets [One can use the regular Rosary, just going around twice on the decades, saying three Hail Marys on each bead], each consisting of 1 Our Father and 3 Hail Marys.
These are the meditations for the five sets:
1. In honor of the Sacred Heart of Jesus.
2. In honor of the Immaculate Heart of Mary.
3. The Passion of Our Lord.
4. The Sorrows of Mary.
5. In atonement to the Hearts of Jesus and Mary.
At the end on the medal say the prayer to the United Hearts of Jesus and Mary:
O United Hearts of Jesus and Mary, Thou art all grace, all mercy, all love. Let my heart be joined to Thine, so that my every need is present in Thine United Hearts. Most especially, shed Thy grace upon this particular need [mention it]. Help me to recognize and accept Thy loving will in my life.
Amen.